Ocean Science Cluster Workshop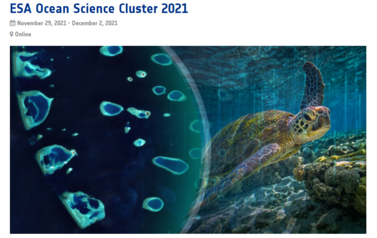 The 1st ESA Ocean Science Cluster Collocation Meeting  took place (virtualy)  between 29 November – 2 December 2021
This meeting involves a set of different ESA-funded scientific activities addressing different aspects of Ocean research. Through this set of projects ESA aims at working hand by hand with the scientific community to:
Improve our observation capacity of the global Ocean and contribute to develop the next generation of Ocean observations from space;
Enhance the basic scientific understanding in physical, biogeochemical and ecological oceanography and the interaction of the ocean with the other components of the Earth System, in particular the atmosphere, the land and the cryosphere;
Contribute to translate new knowledge and scientific results into actionable solutions for society.
WOC partners has significantly contributed to the Ocean Science Cluster Collocation meeting held beginning December 2021.
Our science leader (Fabrice Collard, OceanDataLab) with the help of Daniele Ciani (CNR)  were co-chairmen of the "Upper-Ocean Dynamics" session (session 5). 
This meeting was the opportunity to  presents to the ocean community the results from the project's first year and in partular to give a review of the various products delivered in June 2021 for the 4 domains of applications:  the Sea-state current interactions for Safe Navigation, 3D currents and vertical motion for Sustainable Fisheries, Surface Lagrangian drift for a Clean Ocean, High Resolution wave and current model assessment for a Productive Ocean"
Agenda, presentations are available at the meeting website : https://eo4society.esa.int/event/ocean-science-cluster-2021/